Free Online Hindi Typing Test
Free Online Typing Test currently supports 3 languages for Typing Test mainly used in India.
How to use Online Hindi Typing Test Mangal Font ? First enter your name by clicking in the box where name is written after entering the name move to next option of selecting the time of test select the time of Hindi Typing Test manually, you can select the time from given option of upto 15 minutes. This online Hindi Typing Test Tool uses Remington Gail Keyboard Layout Popularly known as 'Typewriter' layout often used as a way to write Devanagari Scripts such as Hindi, Sanskrit, Bhojpuri etc. This is a very common and popular way of writing Hindi Scripts and basically there are two kinds of Popular Hindi Fonts: Kruti Dev 010 or DevLys Font. Typing section on navigation panel is one of our most advanced software in comparison to other typing websites. We provide you so much versatility in editing and manipulating your text you wouldn't go on any other website to type Hindi, Punjabi. Hindi Typing Test (Unicode/ Mangal Font) Unicode Font based Mangal Typing Test for Check your typing speed as well as Accuracy. The Hindi Typing Speed Test is Free and Online you can use it anytime anywhere. Just select time in minutes and Select passage. Hindi Typing Test - Check your Hindi typing speed in Word Per Minute (WPM). It will help you in increase your typing speed too, you have to do practice daily. Type without seeing the keyboard and let your fingers to find right key to press. Learning fast and accurate Hindi typing is not difficult, what you have to do is focus and practice.
Hindi
Punjabi
English
In Hindi language typing test can be taken in Hindi Mangal Remington Gail & KrutiDev font. In Punjabi language typing test can be given in Raavi and Asees font.
Usage :-
For running online typing test clink on link. After clicking the link you will see typing test with different languages and different fonts supported as shown in image below:-
After clicking on the required language font we will see sub categories as shown in image below:-
Tutor ( Online Typing Tutor)
Exam Practice ( Online Typing Test)
Statics ( Performance)
For typing test click "Exam Practice" option. On clicking you will see as image below :-
A table will appear with heading like Id, Desc, Lesson Data, Time (mins). Lesson data shows previews of lessons. Time (mins) show list box from which can select time 5 minutes to 30 minutes for setting time for lesson. For running Typing Test click "Run" button. After clicking Run you will see as shown in image below:-
5 Minute Typing Test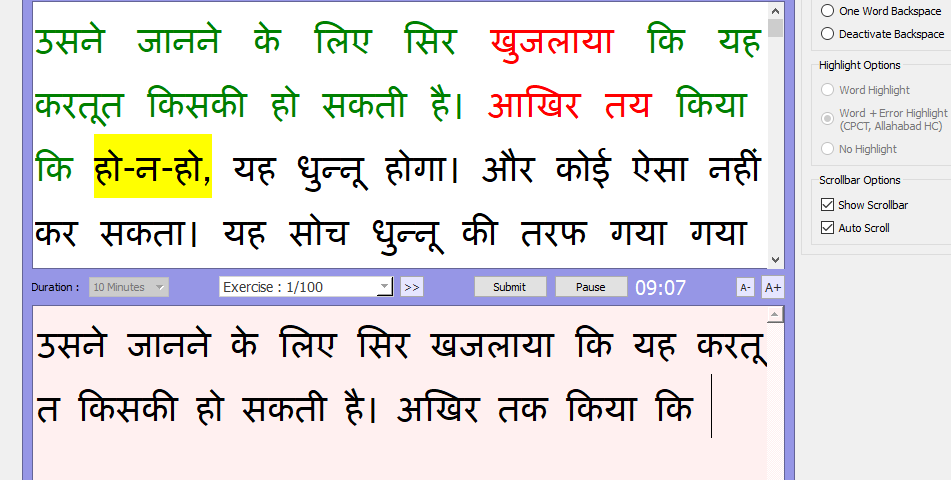 In above image you will see paragraph in top and below the paragraph and empty box to type matter. On the right side of image you can see speedometer which will show wpm (words per minute ) speed. Below that speedometer you can see Time remaining for completion of typing test. As per image you can check DPH (depression per hour), number of right and wrong (mistakes) typed. User can increase or decrease font size of paragraph as per convenience. Other options like pause time if ideal for 5 sec, disable word highlight and block back space can be used. Last option is direction in which user can swap paragraph from top to bottom, left to right and vice versa.
After completion of paragraph typed or if time is over then performance result is show as in image below :-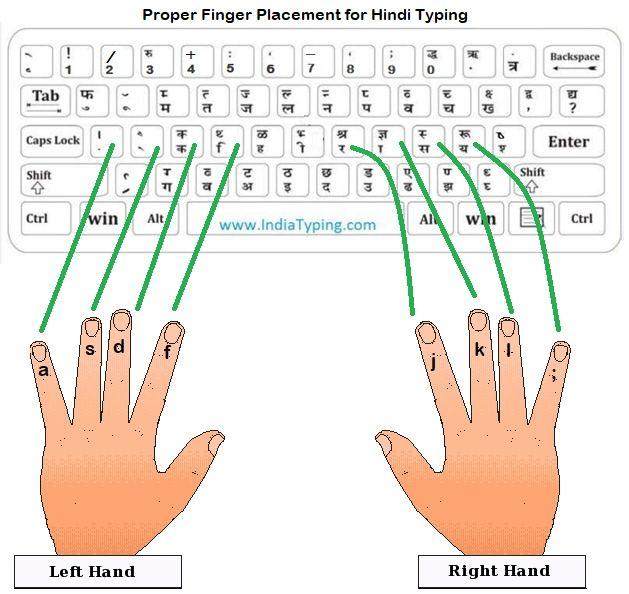 Online Typing Hindi Speed Test
As show in image above we can see name of person typing test, date time test is performed, test language name, test duration, time taken to complete the test. Gross characters typed, Net character (right characters typed), extra space if any, error characters typed, gross speed and accuracy percentage.
Learning Hindi Typing is not a typical task. You can learn Hindi typing easily with free Hindi Typing Tutor Online. Learn typing in Krutidev or Devlys font layout. The two most popular and crystal clear font for Hindi Typing. Learning Hindi typing is required in many Govt. Jobs (Sarkari Naukri) and private exam , many job's needs to pass Hindi typing test. Learn Free Online Hindi typing and test your Hindi typing speed also. You will see complete Hindi Keyboard on screen so will able to practice easily. All Hindi characters will shown on keyboard and finger placement will show you which key to use with which finger. Here we used advanced animation technology that will show you which key you have to press without seeing the keyboard. Practice one lesson daily and you will be professional typist within few days. Here we provide many exercise and practice test for your all keyboard practice, you will also learn Alt + code for some Hindi Characters that are not on keyboard layout. Also English typing course you can take to learn fast and error free typing. This typing course will definitely help you to learn Hindi typing. Best Wishes!!! Create your Experiance Certificate online in free.